Fantasia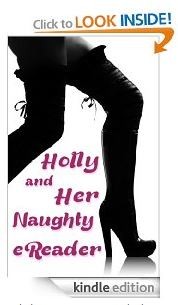 Clicar aqui
What if all those brooding teenage vampires, hunky 19th-century aristocrats, and gorgeous dominating billionaires on your Kindle came to life as real people? 

Holly Pritchett is a high school English teacher by day, and avid reader by night. Romance, erotica, sci-fi, horror, and more, Holly's Kindle is packed with thousands of titles and she reads a new novel every day.

But when she returns to her hometown for her 10-year reunion and meets up with an old friend who dabbles in witchcraft, Holly's Kindle becomes much more than an eReader. No longer a passive observer to the many stories from the Amazon store, Holly becomes an active participant in the books on her Kindle, living the experiences of the characters.

WARNING: Holly and Her Naughty eReader contains intensely steamy scenes with a domineering billionaire who just happens to be a wizard, intensely goofy scenes where Holly stumbles into the body of a horny werewolf, and a cameo from the man who forever changed reading as we know it.